Happy Monday all!
Delighted to share with you today my review for this engaging story. A beautiful story packed with interesting characters. Thanks Trish for my invitation to the tour!🦚

My Thoughts
Minrose Gwin has written a beautiful story packed with Drama, tragedy, family, and hope. Life is complicated and the characters in this story had way more than their fair share of complicated situations. This family drama spans five decades of hurt and healing. The primary focus of the story is on sisters Grace and June, but we do get the point of view of several other characters. The story starts off with the death of Grace and June's mother after a botched backstreet abortion. Grace carries around a lot of grief and guilt in regards to the death of her mother and this leads to some questionable choices in her own life. June is also struggling and this leads to her own poor decisions. When June betrays her sister in a big way a huge divide develops both physically and emotionally in the girls relationship. What follows is a heartbreaking story of hardship and regret that will eventually bring the sisters back together, and it only takes 50 years.
The book really makes you think about limitations that women had in the 1950s and 1960s. I personally thought that the issues that the women in this book struggled with and how they overcame them or didn't really was the best part of the story. I'm not certain if I liked either Grace or June, but I really was rooting for them, these girls had a hard life. There were a few places the book fell a little flat for me. There was just way too much going on. I know the author was trying to give us a sense of time and place, but in doing so I think a lot was overlooked (everything having to do with the spacerace I felt that have been left out). The book was also extremely lopsided, most of the book focus on the first 10 years of the sisters lives and then raced through the final 40 years. I think I would've preferred it to end after the first 10 years and then conclude with a apologue. I mean I did not mind the book being wrapped up in a nice little bow, but it jumped around aimlessly in order to get there. But as I said this was such a small part of the book that it didn't really bother me, for the most part I was thoroughly invested in the sisters lives.
*** Big thanks to William Morrow for my copy of this book ***
About The Accidentals
• Paperback: 416 pages
• Publisher: William Morrow Paperbacks (August 13, 2019)
Following the death of their mother from a botched backwoods abortion, the McAlister daughters have to cope with the ripple effect of this tragedy as they come of age in 1950s Mississippi and then grow up to face their own impossible choices—an unforgettable, beautiful novel that is threaded throughout with the stories of mothers and daughters in pre-Roe versus Wade America.
Life heads down back alleys, takes sharp left turns. Then, one fine day it jumps the track and crashes."
In the fall of 1957, Olivia McAlister is living in Opelika, Mississippi, caring for her two girls, June and Grace, and her husband, Holly. She dreams of living a much larger life–seeing the world and returning to her wartime job at a landing boat factory in New Orleans. As she watches over the birds in her yard, Olivia feels like an "accidental"—a migratory bird blown off course.
When Olivia becomes pregnant again, she makes a fateful decision, compelling Grace, June, and Holly to cope in different ways. While their father digs up the backyard to build a bomb shelter, desperate to protect his family, Olivia's spinster sister tries to take them all under her wing. But the impact of Olivia's decision reverberates throughout Grace's and June's lives. Grace, caught up in an unconventional love affair, becomes one of the "girls who went away" to have a baby in secret. June, guilt-ridden for her part in exposing Grace's pregnancy, eventually makes an unhappy marriage. Meanwhile Ed Mae Johnson, an African-American care worker in a New Orleans orphanage, is drastically impacted by Grace's choices.
As the years go by, their lives intersect in ways that reflect the unpredictable nature of bird flight that lands in accidental locations—and the consolations of imperfect return.
Filled with tragedy, humor, joy, and the indomitable strength of women facing the constricted spaces of the 1950s and 60s, The Accidentals is a poignant, timely novel that reminds us of the hope and consolation that can be found in unexpected landings.

Purchase Links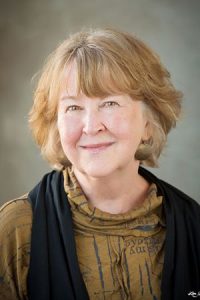 About Minrose Gwin
Minrose Gwin is the author of The Queen of Palmyra, a Barnes & Noble Discover Great New Writers pick and finalist for the John Gardner Fiction Book Award, and the memoir Wishing for Snow, cited by Booklist as "eloquent" and "lyrical"—"a real life story we all need to know." She has written four scholarly books and coedited The Literature of the American South. She grew up in Tupelo, Mississippi, hearing stories of the Tupelo tornado of 1936. She lives in Chapel Hill, North Carolina, and Albuquerque, New Mexico.
Find out more about Minrose at her website.